Dr. Dawkins a Greenville, SC native received his Bachelors of Science degree in Animal and Dairy Science from The University of Georgia. After attaining his BS he went on to earn a Masters degree in Animal and Dairy Science at UGA with a focus on nutrition. After completion of his Masters degree, Dr. Dawkins achieved a Doctorate of Veterinary Medicine at the University of Georgia.
Dr. Dawkins welcomes all aspects of veterinary medicine and has a heightened interest in surgery, dentistry, neurology, and preventive medicine. His goal is to provide the highest level of care possible for his patients while giving a great value to our clients.
When not at the office Dr. Dawkins can be found at home in the kitchen or garden, with his wife and two daughters. Pet family includes 1 dog, 2 cats, 3 chickens, 2 ducks, and 7 feral geese!
A true dawg he says his philosophy is wisdom, justice, and moderation.
Dr. Dave, the newest addition to our team, was drawn to vet school by an unusual motivation. "I was pursuing knowledge," he says. Fascinated by the mechanics of how life works, the school gave him a deep understanding of anatomy and physiology, form, and function. David is a native of the Chesapeake Bay area, born and raised in Maryland where he completed his undergraduate degree at the University of Maryland. Chasing the dream of medicine led him away from home. After graduating from the University of Georgia's College of Veterinary Medicine, he started working for a rural mixed animal practice outside of Athens Georgia. There David learned to pair the rough physicality of farm work with the finesse of science communication, best management practices, and husbandry recommendations. "I got stoked on the idea of helping people raise their own food." Eventually, he learned that while knowledge is great, life is truly about service.
Here at Eastside, Dr. Dave is grateful for the opportunity to work within a locally owned business to offer high quality, reasonably priced medicine. "I feel that we are an integral part of this small community of Spartanburg. What we do matter." At work you can find him explaining diagnostic results to families, teaching puppies to sit, and cutting out cardboard boxes for his hospitalized feline patients so they feel safer.
Outside of work David loves to travel, see new places, visit with friends and family, or spend time in nature. He often volunteers his time working with wildlife and endangered species. Dr. Dave wholeheartedly believes in a fit for service mentality that includes a low-stress healthy lifestyle of good food, regular exercise, and plenty of rest. He would be willing to invest in anyone who can start a hot yoga community here in Spartanburg.
Adam was born and raised in Spartanburg, SC. He is a non-traditional student and does not have a degree outside of his DVM. He did, however get his vet school prereqs at Spartanburg Community College and USC Upstate.
His mother has always been a ``collector`` of animals since childhood. He has always been exposed in very high numbers to animals. He also enjoys medicine a lot. Adam began working in vet-med in 2010.
He knew he was in the right profession in 2013 when he started as a technician. He has recently went on to continue his education about Addison's Disease. Within a week of the CE he saw a patient that came into the office with classic signs of the disease that he had just learned about and was able to assist the doctors with the diagnosis and treatment and it was amazing to put knowledge to work.
Adam is passionate about endocrinology, nutrition and feline lower urinary tract health specifically. Endocrinology has always been a passion of his because they are often diseases that pose a diagnostic challenge and can be very rewarding to treat and make significant improvements in an animals quality of life.
He has a wonderful wife of 7 years, a 7 year old daughter and a 9 month old son. He enjoys going to Atlanta Braves games and has an incredible passion for sports cars.
Mallie is a Spartanburg native who has been preparing for this particular job for 35 years. You could say this is the family business! I believe my favorite thing is our employees who are passionate about animals and willing to get down and dirty and go the extra mile.
You might recognize her as the first Iditarod Teacher on the Trail, as she traveled the State making Alaska and the Iditarod Sled Dog Race come alive for South Carolina students.
A graduate of the University of Georgia, she is a teacher at heart. Always a student herself she is forever seeking new knowledge. One of Mallie's favorite things about this profession is that for over 10 years they have sent students to vet schools all over the country by providing them with valuable knowledge and training to get there.
In her spare time, she loves to cycle (come join her at CycleBar Spartanburg!), travel, and cook for her family. Mallie has a 4-year-old Australian Cattle dog, named Ruby and a cat named Ceelo Green. She considers her greatest accomplishment to be her two children: daughter Elizabeth is a veterinarian and graduate of the University of Georgia. Son, Hamilton, graduated from Georgia and works at Snapchat in New York City.
Ann is a native of Glendale and has worked at Eastside Animal Hospital since 2011. With a degree in Economics/Accounting and minor in Classical Piano, Ann made a big career change to begin work in the Veterinary Field. She has placed high importance on caring for animals and rescuing them from a young age. At 12, someone suggested that she should pursue a veterinary career after she cared for a litter of newborn kittens following emergency surgery of their mother. Working at Eastside Animal Hospital allows her to continue that pursuit and assist pet owners in the care of their companions.
Ann lives in Spartanburg with her daughter Jessi and their 2 dogs in a home restored by her family. In her spare time, she enjoys architectural restoration, antiques, music, books, and theater. Every problem is an opportunity waiting to be fulfilled!
Gina is a Spartanburg native and has worked in the veterinary profession since 2000 and has been part of the EAH team since 2010. She loves working with the office aspects of veterinary medicine, as well as getting to work with pets and help them when they are sick. Gina loves animals and getting to see the babies grow. She gets to deal with the people and the pets! Her goal is to help clients understand what their pets need to keep them healthy and safe.
Married to Jim for over 25 years they have a son, Tyler, and a dog, Bandit. In her free time, she loves to karaoke and sing gospel tunes. Gina says Bandit loves to sing with her.
Sally joined EAH as a receptionist in 2017. She was born and raised in Spartanburg. Being a caregiver is one of her biggest passions, and she loves to work with both people and pets. This is how she knew she was in the right profession - she enjoys going to work and doesn't view it as just a ``job``.
Sally lives in Cowpens with her partner and 5 children. You might find them spending time together at the beach or hanging out by the pool!
Miranda was born in PA and raised in Marion, SC near Myrtle Beach. She moved to Spartanburg seven years ago to pursue a better career and to be closer to the mountains. She's always had a passion for animals and to be in the industry. Her favorite thing is the animals themselves and being able to help. She's a people person and can easily conform to what is needed. She has patience and compassion for everyone's situations.
She has a small family, none live in the area. In her free time, she enjoys hiking and being able to take her dogs with her on trails or visiting dog parks.
Amber was born and raised in Spartanburg, SC and always knew she wanted to work in animal health care - she never aspired to do anything else. It is very rewarding to be able to help animals - Amber says ``I know I'm where I'm supposed to be.``
She married her husband in 2010 and their family is made up of a daughter and son, 4 dogs, 2 cats, and a rabbit. On the weekends you might find them at their daughter's soccer games, volunteering through AYSO, spending time with their fur babies, or taking short day trips to new places.
Patricia joined the EAH team in December 2020.
Patty was born in the sunny tropical city of Cali, Colombia (South America), half German half Colombian she grew up with a mixture of cultural traditions. She completed her Veterinary Medicine degree in Colombia in 1992 and started her career as a technical adviser in an NGO promoting sustainable animal production systems. She finished her Masters' degree in Ecology in New Zealand in 2000 and continued pursuing her interest in conservation working at an NGO promoting Private Natural Reserves. Her love for animals always endured, so much so that she adopted several street dogs in Cali and keeps them on her small farm in the mountains with help of her mother.
She moved to the US in 2007 and has been working in small animal practices as a registered veterinary technician. The passion for holistic and Traditional Chinese Veterinary Medicine (TCVM) began after taking an introductory course on TCVM at Chi University. She is currently finishing a Masters's Degree in TCVM and has already completed certification in acupuncture, Chinese herbal medicine, food therapy, and Tui-na (medical massage). She believes that Western Medicine has a lot of strengths but integrating it with alternative therapies compensates for some weaknesses, especially in treating chronic diseases. She loves the feeling of being able
to offer relief to patients that are suffering, or comfort the older pets that present with a combination of health problems.
She lives with her husband in Spartanburg since 2014 and enjoys sports, walking their dogs in the woods, reading, and some gardening. Still dreaming of having a small sustainable farm and building an Earthship!
Emily is a local who is currently attending the Penn Foster Vet Tech Program. Growing up, she always had a passion for and connection with animals. Any animal was interesting to her and she knew one day she would end up working with them. In her own words: ``Honestly, I knew I was in the right profession on the first day of my job working here at Eastside. I had never worked in a vets office before but I was so eager to finally dive into what I had been dreaming of working with animals that it immediately clicked. I was afraid of failing and possibly not feeling as passionate about this line of work as I had growing up, but my fear was immediately dismissed.``
When she's not at work, Emily spends time with family and uses her cosmetology license to help friends and family with hair and make up. She also dances and weight lifts, where she has set 10 records for weight lifting.
Ethan started volunteering for Eastside in January of 2021 and became a full time worker in March of 2021. He is a new graduate of USC Upstate, where he got a B.S. in biology with a pre-vet focus.
He started in the veterinarian industry in 2021, but had worked with animals beforehand in a few shelters and an animal sanctuary. His favorite thing about working with animals is being able to help save an animal that would not have survived if left untreated. He knew he was in the right profession because he loved learning in school and being able to apply them in real life on the job.
Ethan loves working and learning new things in school. He also spent some time in Africa working on a cheetah breeding farm and an animal sanctuary, where he had the opportunity to work with a variety of animals including cheetahs, lions, leopards, a tiger and many more.
Joanne has been in the veterinary field for 11 years. She was born in Rhode Island, but has been in Spartanburg since she was 4. She began working in the veterinary industry because it seemed like it was what she was destined to do. She was born with a natural interest in animals. Animals seem to gravitate to her, just as she gravitates towards them. Her baby pictures often featured her with animals. The compassion and empathy she has for animals was never anything she had to learn or acquire. It was just natural.
Her favorite thing about working with animals is watching patients get better with medical or holistic intervention, along with watching the compassion of the veterinary staff. She knew she was in the right profession when she realized that the community realized that she was a vessel for animal health. She frequently gets approached by others asking for veterinary advice. She also gets approached by others that find animals in need, and is able to point them in the right direction. Through many years of networking and knowledge in the field, she is able to ``connect the dots`` for animals in need. She is currently working towards being a licensed veterinary technician, to be able to explore more possibilities in the field.
Joanne has 14 animals! Including 4 dogs, 5 cats, 5 birds(whom she considers her family) She's interested in learning and working with exotic animals.
Crystal attended some vet tech college until it closed down. She then moved to the town she currently resides in to be closer to family.
Crystal's passion for working in the veterinary industry stems from her love of animals, which started at a young age. Her favorite thing about working with animals is witnessing their improvement in every way possible.
Crystal knew she was in the right profession when she felt a rush of excitement to return to work and help animals in need.
Outside of work, Crystal finds inspiration in her parents and siblings, who motivate her to become a better person.
Katie is a passionate veterinary technician who has been working in her current position for six months. Born and raised in Pacolet, South Carolina, Katie has always had a deep love and affinity for animals. It was this unwavering passion that led her to pursue a career in veterinary medicine, where she could make a meaningful difference in the lives of animals and their owners.
Katie's educational background includes rigorous training in veterinary technology, equipping her with the necessary skills to provide exceptional care to animals. Her commitment to continuous learning and staying up-to-date with the latest advancements in veterinary medicine allows her to offer the best possible care to her furry patients.
When Katie steps into the clinic each day, she feels a sense of fulfillment and purpose. The joy she experiences while working with animals and the satisfaction of helping them heal reaffirm her belief that she has found her true calling. Whether it's providing routine check-ups, assisting with surgeries, or offering compassionate support to worried pet owners, Katie's dedication and genuine love for her work shine through.
Outside of work, Katie cherishes the time spent with her family and friends. She particularly enjoys going on outings with her mom, whether it's catching a movie or indulging in a shopping spree. In addition, Katie has two dogs of her own, who bring her immense joy and companionship. She values the importance of maintaining a work-life balance and finds solace in the simple pleasures of life.
With her unwavering passion for animals, her dedication to her profession, and her warm and compassionate nature, Katie is a valued member of the veterinary team, making a positive impact on the lives of both animals and their human companions.
Grace began her career in the veterinary industry in 2020, driven by her lifelong passion for working with animals. Growing up in Minnesota, Grace developed a strong connection with animals and spent time volunteering at a local humane society, which further solidified her desire to pursue a career in veterinary medicine.
In the summer of 2022, after completing her associate degree, Grace decided to relocate to Spartanburg to continue her education at USC Upstate. She is currently pursuing a bachelor's degree in biology with the goal of attending veterinary school in the future. Grace was drawn to South Carolina due to her fond memories of visiting the state during her childhood, as her grandparents had moved there. The desire to live in a warmer climate where she could enjoy the outdoors more also played a significant role in her decision.
Grace finds working in veterinary medicine extremely rewarding. She takes great pride in improving the lives of animals and ensuring they receive the best possible care. Every day, she leaves work knowing that she has made a positive impact on an animal's life. Grace appreciates the hands-on nature of her work, as it allows her to continually enhance her knowledge and skills.
Outside of work, Grace enjoys spending time with her dog, Bridget, whom she loves to take on hikes. She values quality time with family and friends, and she also enjoys traveling and attending live music events.
Connor joined the team in May 2023 and has since become an invaluable member of the staff. Connor, who prefers he/him/his pronouns, hails from Hartsville, SC, and holds a degree in History from Winthrop University. Currently, he is pursuing his prerequisites as a non-traditional graduate student at USC Upstate, with the goal of attending veterinary school.
Connor's passion for animals and their well-being led him to the veterinary industry. Growing up, he raised dogs, cats, and even livestock, which provided him with valuable hands-on experience and sparked his love for caring for animals. Witnessing the profound impact that well-practiced medicine can have on both animals and their owners is Connor's favorite aspect of working with animals. He finds fulfillment in seeing the positive changes and improved quality of life that veterinary care can bring.
Connor's professional journey has reaffirmed his belief that he is in the right profession. He appreciates the intellectual stimulation and hands-on nature of veterinary medicine, which allows him to continuously learn and grow while making a meaningful difference in the lives of animals.
Outside of work, Connor enjoys spending time with his wife, Rebekah, and their beloved 4-year-old great Pyrenees named Clyde. In his free time, he indulges in his passion for music, weightlifting, and tending to his vegetable garden. Connor leads a fulfilling life, both inside and outside of the veterinary practice, driven by his unwavering dedication to animals and their well-being.
Rattray went to high school with additional schooling and currently resides in a nearby town where she has lived her whole life. She has always wanted to become a veterinarian. From early on, as a young child, she's always had a strong passion for animals and has always wanted to help them. She believes that we have to be their voice and stand up for them since they are unable to speak. Because she felt at home and that this was her calling, she knew she was in the proper line of work.
Rattray has 3 daughters. She enjoys the outdoors and exploring nature. Every chance she gets, she enjoys assisting others. She also has dogs and loves spending time with them. They are like her extended family.
Alissa is currently still in school. She began working in the veterinary industry because she really enjoys working with animals. The reason she knew she was in the right profession was because she's been able to stay focused and will not give up!
Alissa has two sisters, their names are Skylynn, age 12, and Zoey, age 8. Her moms name is Rattray and her dads name is Chase. She loves to be outdoors and explore. She also loves spending time with her animals and her family. Her mom is her biggest inspiration, she pushes her to do whatever she wants to do.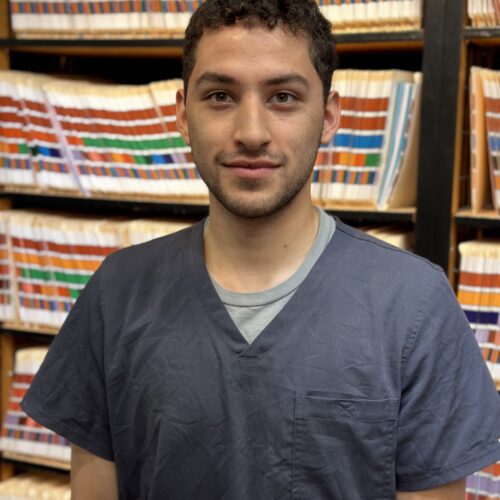 David was born and raised in Mexico and later moved to South Carolina at the age of 16 when his father was transferred. After spending some time in California, he returned to South Carolina at the age of 22. David is currently pursuing a Bachelor's Degree in Biology.
His passion for animals and a desire to become a veterinarian led David to start working in the veterinary industry. From a young age, he had a deep love for animals and found joy in making them feel better. While working with animals, David discovered a particular interest in laboratory work and analyzing samples.
What he loves most about working with animals is witnessing the positive transformation in their demeanor when they start feeling better. This brings him a sense of fulfillment and reassurance that he is in the right profession. David's journey in the veterinary field began when he started volunteering at animal hospitals at the age of 18, solidifying his passion for caring for animals.
Outside of work, David enjoys maintaining an active lifestyle. He loves working out and participating in boxing activities. Spending quality time with his loved ones is also important to him. In addition to his interest in animals, David has a passion for learning languages, as well as reading about history and foreign cultures.
Born and raised in Spartanburg, Gabriel spent his childhood years on a farm, where he was homeschooled. He was looking for a first job and had always been around animals on his farm, plus his grandma used to raise english sheperds. Which is why he began working in the veterinary industry. He loves working with all the pets and seeing their owners happy to see they got the care they needed.
Gabriel lives at home with his mom. He enjoys doing yard work, going through nature trails, and gaming. Chap is his horse, and Teddy, Arthur, Piper, and Ernie are his four cats.
With a lifelong passion for animals, Jordan found her calling in the veterinary industry. Ever since she was a child, she has been deeply connected to animals and has always enjoyed taking care of horses, which she has had the pleasure of owning.
Working with animals brings Jordan immense joy and fulfillment. She finds great satisfaction in witnessing the recovery and well-being of patients under her care. The moment she sees happy and healthy animals go home after receiving treatment, she knows she is in the right profession, making a positive impact on their lives.
Beyond her work at the veterinary clinic, Jordan remains dedicated to her love for horses. She not only enjoys taking care of them but also actively participates in showing them. In her free time, she cherishes moments spent with her beloved dogs, Ozzy and Remi, creating lasting memories and enjoying their company.